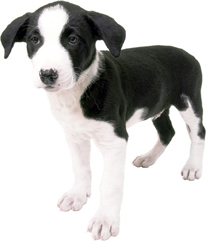 Congratulations on your new puppy! Thank you for trusting the Kennedy Road Veterinary Hospital in Brampton, Ontario with the care of your new pet.
Our puppy wellness program is designed to get your puppy started on the right path to a long and healthy life. The first few months are a critical period in your puppy's development and with the right support and tools, your puppy can grow into a healthy, well-mannered member of your family. The Kennedy Road Veterinary Hospital would be glad to offer you guidance on the nutrition, training, and socialization of your new pup.
Schedule your puppy for his or her first exam as soon as possible. Until your puppy has received a series of vaccines, he or she will be susceptible to many serious but preventable diseases. Most puppies will be carriers of roundworm, an intestinal parasite that is usually transmitted from mother to pup. Roundworms can cause vomiting and diarrhea in puppies and it is important to have your puppy dewormed to eliminate roundworm and other intestinal parasites. While these parasites may not cause symptoms in adult dogs, they can lead to serious illness in younger animals. Many of these intestinal parasites are transmittable to humans, so you will also be protecting your family by having your puppy treated.
We look forward to meeting your new puppy. Call the Kennedy Road Veterinary Hospital at 905-846-2332 to schedule an appointment for your new puppy today!