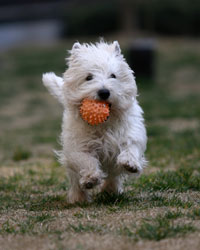 Since animals are excellent at hiding disease and age much quicker than humans, having regularly scheduled exams performed on a yearly basis can help detect underlying health issues before they progress. Early detection can improve the prognosis of many diseases, resulting in a better quality of life for your pet and often a reduction in cost for the owner.
As your pet ages, the risks for conditions such as arthritis, diabetes, cancer, and kidney disease increase. Annual health assessments by the veterinarian will not only help in the early detection of disease, but can also improve your pets' quality of life. Symptoms that are commonly attributed to age, such as joint pain and stiffness, can typically be managed under the supervision of a veterinarian. The veterinarian can also offer recommendations regarding nutrition and exercise to meet the current life stage needs of your pet.
The Kennedy Road Veterinary Hospital will tailor an adult or senior wellness plan to meet the specific needs of your pet. Please notify us if you have noticed any physical or behavioural changes in your pet. To schedule an appointment for your cat or dog, please call us at 905-846-2332.